Welcome to the Trinity Tweens!! We're a group of kids between 8 and 12 years of age. We're meeting weekly to take part in activities that will help us to reach out to those in our community and our world, who are in need of support.
Please check back weekly to see and hear all about what we've been doing! You can click on the months at the top of this page to take you to our weekly activities.
Enjoy!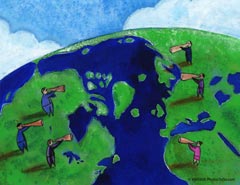 Organization News
First meeting - Monday September 19, 2005
We will be meeting each Monday, from 4-5:30pm.
Becoming a Member
We welcome all children between the ages of 8 and 12.
You don't have to be able to attend every meeting to be a part
of our group.
For more information, please contact Marcia...